Here's the 30 most recent of over 2500 home inspection blog entries. You can also use the Blog Index link above, or search box below, to find the article with the info you need. Also, our Blog Archive lists all the articles, including a reposting and updating of earlier blogs from mcgarryandmadsen.com dating back to 2011.
How To Look at a House
recent blogs
Tuesday, May 4, 2021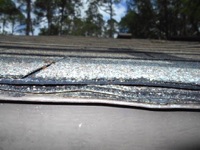 A "roof-over" is when an existing roof remains in place and a new roof is applied on top of it. This is also called a "roof recover." Although it is usually done with an asphalt shingle roof, the new roof can be any roofing material. To learn more, see our blog posts Does a roof with multiple layers of shingles last longer? and How can I tell if a...

Top 5 results given instantly.
Click on magnifying glass
for all search results.