Here's the 30 most recent of over 2400 home inspection blog entries. You can also use the Blog Index link above, or search box below, to find the article with the info you need. Also, our Blog Archive lists all the articles, including a reposting and updating of earlier blogs from mcgarryandmadsen.com dating back to 2011.
How To Look at a House
recent blogs
Wednesday, November 25, 2020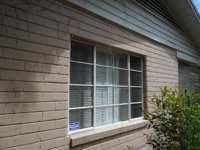 We don't recommend it for several reasons. First, any bare concrete block, Ocala block included, absorbs water from rain. This type of block is less absorbent than modern concrete block, but the process of chemical stripping or blasting away the multiple coats of paint that have accumulated over the years will deteriorate the surface of the block,...

Top 5 results given instantly.
Click on magnifying glass
for all search results.