How To Look at a House
recent blogs
Thursday, November 30, 2023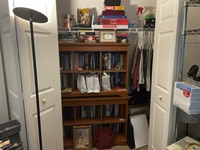 It may seem like there's not much to see in a closet, but some hold dark secrets. They often don't get repainted along with the rest of the interior, so any roof leak stains will still be visible, while the ceilings of the other rooms have been touched up. There may also be mold or drywall damage. And the baseboard could have termite galleries and...
Here's the 30 most recent of over 3,000 home inspection blog entries. You can also use the Blog Index link above, or search box below, to find the article with the info you need. Also, our Blog Archive lists all the articles, including a reposting and updating of earlier blogs from mcgarryandmadsen.com dating back to 2011.

Top 5 results given instantly.
Click on magnifying glass
for all search results.