Here's the 30 most recent of over 2300 home inspection blog entries. You can also use the Blog Index link above, or search box below, to find the article with the info you need. Also, our Blog Archive lists all the articles, including a reposting and updating of earlier blogs from www.mcgarryandmadsen.com dating back to 2011.
How To Look at a House
recent blogs
Wednesday, September 23, 2020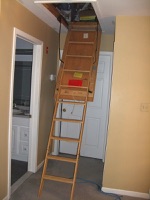 There is no code requirement for an attic ladder, and having an appliance such as a water heater, furnace, or air handler in the attic does not change it. The code does, however, have requirements for the size of the access opening, minimum height above the opening, lighting, and a clear walkway to any appliances. The relevant sections of the International...

Top 5 results given instantly.
Click on magnifying glass
for all search results.