Here's the 30 most recent of over 2300 home inspection blog entries. You can also use the Blog Index link above, or search box below, to find the article with the info you need. Also, our Blog Archive lists all the articles, including a reposting and updating of earlier blogs from www.mcgarryandmadsen.com dating back to 2011.
How To Look at a House
recent blogs
Monday, August 3, 2020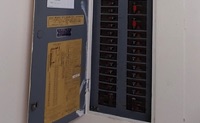 We know of no verified, documented problems with Wadsworth panels, except that they are old. The Wadsworth Electrical Manufacturing Company dates back to 1918 and was an early innovator, with numerous patents for electrical breakers and panel box designs. Wadworth panels were most popular from the 1930s to 1950s. The company was liquidated in 1990,...

Top 5 results given instantly.
Click on magnifying glass
for all search results.