Here's the 30 most recent of over 1,300 home inspection blog entries. You can also use the Blog Index link above, or Google Custom Search box below, to find the article with the info you need. Also, our Blog Archive lists all the articles, including a reposting of earlier blogs from www.mcgarryandmadsen.com dating back to 2011.
How To Look at a House
recent blogs
Friday, February 22, 2019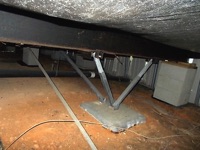 There are two requirements for the accuracy of leveling at the installation of a mobile home, per HUD-Code 24 CFR 3285.6: 

No more than 1/4" difference in level between adjacent pier supports, both frame and perimeter.
Exterior doors and windows are functional, do not bind, and can be properly operated.

    Also, see our...