How To Look at a House
recent blogs
Saturday, May 21, 2022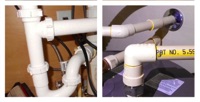 They are similar, but not the same. PVC (PolyVinyl Chloride) is bright white and cannot be used for water supply pipe inside a home or for hot water. It is primarily for water service pipe coming to the home and drain/waste pipe inside and leaving it. CPVC (Chlorinated PolyVinyl Chloride) is cream to tan color and approved for both hot and cold supply...
Here's the 30 most recent of over 2800 home inspection blog entries. You can also use the Blog Index link above, or search box below, to find the article with the info you need. Also, our Blog Archive lists all the articles, including a reposting and updating of earlier blogs from mcgarryandmadsen.com dating back to 2011.

Top 5 results given instantly.
Click on magnifying glass
for all search results.