Here's the 30 most recent of over 2,200 home inspection blog entries. You can also use the Blog Index link above, or Google Custom Search box below, to find the article with the info you need. Also, our Blog Archive lists all the articles, including a reposting and updating of earlier blogs from www.mcgarryandmadsen.com dating back to 2011.
How To Look at a House
recent blogs
Sunday, May 31, 2020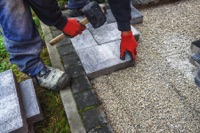 You can expect a concrete or brick paver patio to last 25 to 45 years, with an average of 35 years. Proper installation is critical and begins with a well-compacted base. Maintenance is also important, such as regular re-application of a surface sealer and repair/replacement of damaged pavers.
    Go to our blog post What is the average lifespan...

Top 5 results given instantly.
Click on magnifying glass
for all search results.