Here's the 30 most recent of over 2400 home inspection blog entries. You can also use the Blog Index link above, or search box below, to find the article with the info you need. Also, our Blog Archive lists all the articles, including a reposting and updating of earlier blogs from mcgarryandmadsen.com dating back to 2011.
How To Look at a House
recent blogs
Tuesday, October 27, 2020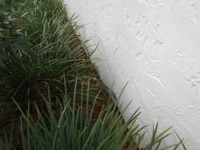 Builders extended stucco right into the ground at many Florida homes that were built until about the 1990s. Due to the problems we are about to describe, it was gradually replaced by stucco that stops within 4" to 6" above ground. Then, in the last 20 years the gap between the ground and the bottom of a stucco wall finsh became a code requirement...

Top 5 results given instantly.
Click on magnifying glass
for all search results.